Problématique de la Virtualisation sur le réseau
Plusieurs années auparavant, les architectures réseaux comprenaient trois couches spécifiques, le Cœur de réseau, l'agrégation des liens vers le cœur, et la couche d'accès aux serveurs d'applications. Il était courant de n'avoir qu'un seul système d'exploitation, et une application par serveur. Chaque serveur était relié à un port de switch d'accès du réseau par une simple carte réseau.
Avec la Virtualisation, une quatrième couche à vu le jour, la couche d'accès virtuelle. En effet, dans un souci de consolidation, et d'optimisation des serveurs, nous pouvons dorénavant avoir plusieurs serveurs virtuels sur un serveur physique. Chaque machine physique peut contenir plusieurs systèmes d'exploitation et plusieurs applications.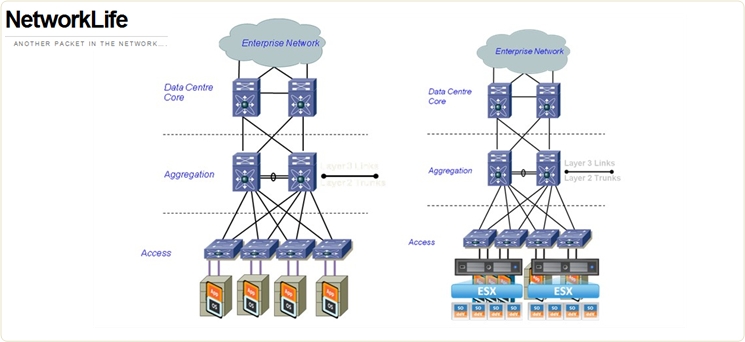 Vous pouvez visualiser ci-dessus les deux types d'architectures. L'architecture avec des serveurs physiques ainsi que l'architecture virtualisée.
La virtualisation apporte beaucoup de solutions pour le partage de charge, ou une amélioration de la haute disponibilité des applications. Néanmoins, elle apporte de nouveaux challenges technologiques :
Les ports d'accès réseaux ne sont plus reliés à un unique VLAN mais deviennent des liens de Trunk 802.1q vers un certain nombre de VLANs.
Le vSwitch (Virtual Access Switch) est maintenant géré par les équipes d'ingénieurs systèmes.
Les équipes d'ingénieurs réseaux perdent en visibilité sur le trafic des machines virtuelles.
Ce schéma est d'autant plus complexe à mettre en place et troubleshooter.
De plus, les possibilités les plus novatrices de la virtualisation sont les améliorations qui stressent le plus le réseau :
vMotion transporte les machines virtuelles au travers de différents ports physiques.
Le réseau n'a aucune visibilité sur la provenance du trafic applicatif.
Les serveurs doivent maintenant s'occuper du réseau. Chaque ESX équivaut à un vSwitch.
Les règles et configurations doivent suivre les vlans, acls..
Le facteur à prendre en compte ici est l'insertion du réseau vers la partie applicative avec les vSwitchs, et le rapprochement du système vers le réseau. Ces rapprochements nécessitent donc des rapprochements entre les équipes d'ingénieurs systèmes et réseaux afin de travailler ensemble dans la définition des besoins et la mise en place de l'architecture du système d'information d'une entreprise.
Voyez-vous d'autres problématiques pour suivre cette réflexion ? n'hésitez pas à commenter !
---
Traduction for english readers:
Several years ago, network architectures included three specific layers, the core network, aggregation layer, and the access layer to application servers. It was common to have a single operating system by application. Each server was connected to a switch port to access the network via a single NIC.
With the virtualization, a fourth layer emerged, the virtual access layer. Indeed, for the consolidation, and optimization of servers, we can now have multiple virtual servers on one physical server. Each physical machine can contain multiple operating systems and multiple applications.
You can view above two types of architectures. The architecture with physical servers and virtualized architecture.
Virtualization provides many solutions for load sharing,  or improved application availability.
Nonetheless, it brings new technological challenges:
The network ports are not connected to a single VLAN but become 802.1q Trunk links to a number of VLANs.
vSwitch (Virtual Switch Access) is now managed by teams of systems engineers.
The teams of network engineers have a weak of visibility into the traffic in virtual machines.
This pattern is even more complex to implement and troubleshoot.
In addition, most innovative possibilities of virtualization are improvements that stress the more the network:
VMotion VMs carries through different physical ports.
The network has no visibility from the application traffic.
Servers must now deal with the network. Each ESX equivalent to a vSwitch.
The rules and configurations must follow the vlans, acl ..
Factor to consider here is insertion of the network towards the application with the vSwitch and the mix between the system and the network. These comparisons therefore require reconciliations between the systems engineering teams and networking teams to work together in identifying needs and implementing the system architecture of an enterprise's IT.
Do you see some others problematic to improve this reflexion? Feel free to comment !