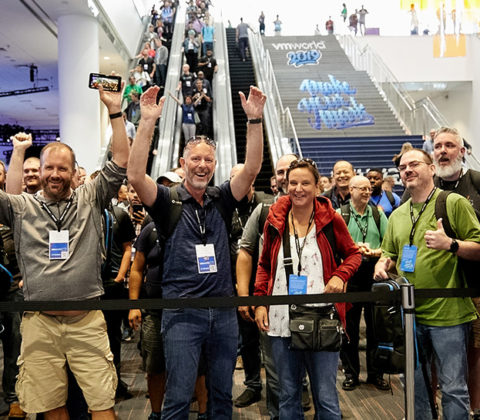 VMworld 2019 | What's up with the virtualization?
I'm writing this blog post on my way to Barcelona for my first VMworld.
The event will take place from November 4th to 7th in Fira Barcelona Grand Via, the same event center as the Cisco Live that I'm more used to :)
What is VMworld
VMworld is VMware's annual IT event, it took place in the United States a few weeks ago, and in Europe this week. As per their website: "VMworld 2019 captures the momentum of today's rapidly changing IT environment and puts it within your grasp so you can accelerate your cloud journey to support your business. Transform networking and security for speed and flexibility. Deliver digital workspaces for amazing mobile experiences. Whatever you need to know, you'll find the best information, tools, and partnerships to take IT—and your power to shape it—to the next level.", in a few words, it's an incredible opportunity to learn, grow and have fun in a single event :)
Why VMworld ?
I'm a long-time user of the VMware products like ESXi and vSphere as a VM consumer for my networking labs and testings. With VMware's move to networking lately and as they are gaining market shares, we (network engineers) must be aware and stay up to date with these technologies, it's part of continuous learning.
My main goals this week are the following:
Listening to the experts
VMworld is a unique opportunity to listen for expert advice and their vision, starting from the keynotes for a high-level view from the top managers at VMware (CEO, COO…), to the top product engineers during the breakout sessions, as well as partners in the exchange forum. There is some interesting guests sometimes and this year, it seems to be Bear Grylls, I saw he is invited to speak at the general session this Wednesday. The opportunity to open our mind, and who knows, maybe his survival experience could be useful one of these days in our data centers.
Learning
I'm highly interested in VMware's networking products like NSX-T for the Data Center and Velocloud SD-WAN, my week is already scheduled with a lot of NSX/Velocloud sessions and Hands-on Labs. I've already had the opportunity to work with both of these technologies recently, and I plan to deploy them again soon so this kind of event is awesome to stay on the cutting edge of the products.
The challenge is not only to learn for myself but also do my best to share the experience and information with my coworkers. By the way, if you're reading this and are used to participate in this kind of event, I'd love to hear how you manage to share the information with your coworkers.
Networking
The other advantage of these kinds of events is the opportunity to catch up with clients, partners, colleagues, former colleagues and I can't wait for it!
If you're in Barcelona this week, let me know!